Marinas In Malaga
Marinas In Málaga
Marinas in the beautiful Spanish towns in Malaga provide beautifull areas for leisure and relaxation. During the summer nights, you can also enjoy the street markest selling arts and crafts, clothing and accessories that sets up its stalls at the marinas in Malaga. La Alcaidesa Marina is one Andalucia' newest marines. It was opened in summer 2010 and is in the middle of expanding. It is located in a privileged geographical location, five minutes from Gibraltar.
It currently has a restaurant, the Alcaidesa Lounge Bar, with a fantastic terrace providing beautiful views of the marina, where you can enjoy the delicious dishes from its menu. In the boatyard area, you will find shops selling nautical items. The marina is also home to companies offering boat rental with or without a skipper, jet ski rental and sale, and sailing schools.
It is a traditional marina on the Cádiz Costa de la Luz, which is visited by many people looking to spend some leisure time in a sea environment. It is home to all kinds of restaurants, bars and discos. The marina is also home to companies offering boat rental services with or without a skipper, boat excursions around the Bay of Cádiz and different water sports schools.
It is located in the municipality of Ayamonte and its interest goes beyond nautical activities. The marina is home to the Isla Canela Marina Shopping Centre, with several bars, restaurants and fashion and sporting goods shops. It is also home to companies that rent boats and organise boat excursions along the Huelva coast.
Luxury Villas In Costa Del Sol - Fine Luxury Property Villa Collection
In addition to its 300 plus berths, the marina enclosure is home to a café, supermarket and marina services, as well as companies that rent boats and organise sea excursions around the area. This is one of Andalucia's newest marinas. It was opened in 2012 and has almost 400 berths.
It has a sailing and fishing school, as well as a great café restaurant with sea views. You can also rent a boat with or without a skipper.
Whether you are looking for somewhere to moor your yacht, or just love being in a nautical environment, the Costa del Sol has just the spot for everyone. Though you don't need to be a water sport enthusiast or have a yacht to enjoy these vibrant marinas as there is so much to do.
Apartments & Villas For Sale Near Marinas in Malaga
Puerto Banús is the epitome of luxury and glamour, and it is the place where the most exclusive social parties take place. Along its piers you can find huge and magnificent yachts. Only the most exclusive clients can access the mooring area and port side there are an array of high fashion shops.
Benalmádena marina has been honoured as "The Best Marina in the World" on two occasions (1995 and 1997). This award is given by international magazines specialised in the matter. Puerto Marina is a place where adults and children alike enjoy their stay. Apart from its beautiful ships and its streets facing the sea, the town is full of shops and restaurants.
Sea Life Benaladena is located here as well. The Port of Malaga has been undergoing a modernization of its facilities and creating new spaces within its southern area to moor super yachts. Pier One is one of the must-see spots of the city of Málaga where you can find an exclusive shopping centre and one of the most important cultural attractions of the city, the Pompidou Centre of Malaga.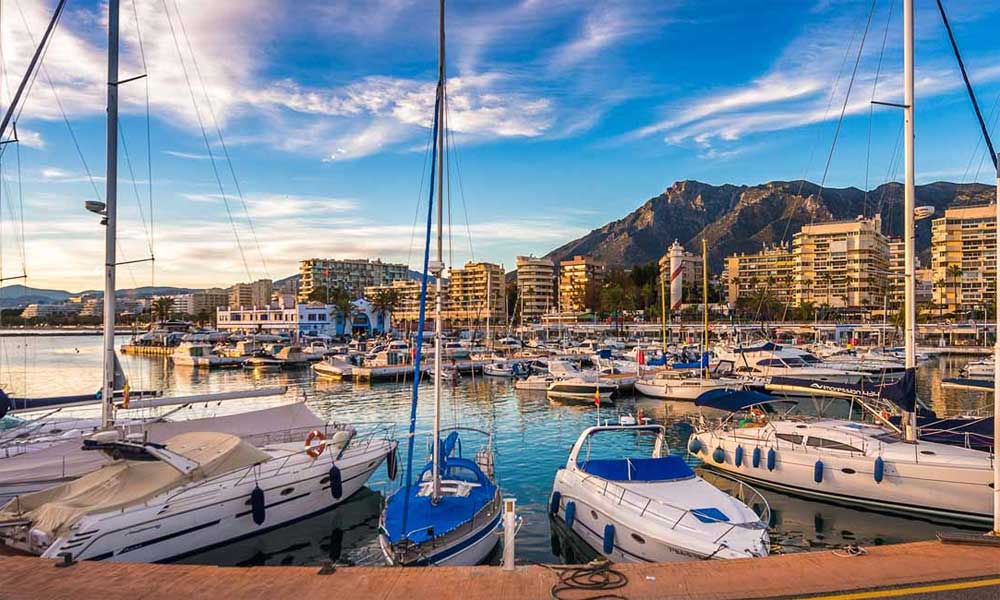 You can also connect internationally as the airport is around 15 minutes out of the city. Estepona is considered the "Garden of Costa del Sol" and its beauty is masterfully blended with the uniqueness of its port. The Marina of Estepona is at the western end of the promenade and makes an ideal place to stroll while you photograph yourself with boats that are moored there.
The Costa Del Sol, Spain
This is a smaller marina but it still draws many visitors each year. Ten kilometres from the centre of Marbella, the small port of Cabopino is part of an exclusive residential complex. The enclave has a natural beach and several bars where you can taste its famous sardines. This is a more understated marina than its glitzy neighbour Puerto Banus, but it really is a lovely place to sit and watch the world go by.